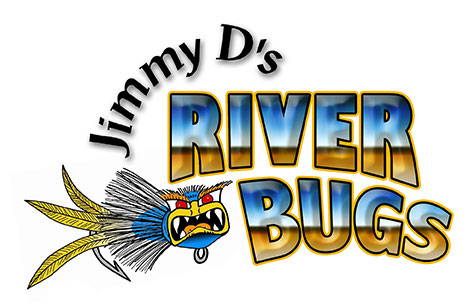 Can you think back on some of the brands of fishing gear you grew up with that you don't see anymore? Chances are they're still around – they've just been lost somewhere because the big chain stores don't carry them anymore. Call it what you will – retail politics, competition, undercutting…well we're here to tell you there's so much more out there and nobody represents the type of quality and service out of this goldmine market more than Jimmy D's River Bugs. Please trust us on this one. Not only are you going to catch some fish, but you'll be opened up to a whole new world of stuff you didn't know existed.
Where do we start? The goby jig's effectiveness on the great lakes at taking smallmouth? Drift fishing "the minnow" tipped with live shiners for hybrid stripers? How about using his streamers for pike after pike…after pike...on the fly rod? We're sold, we use them, we can't say enough. Be sure to see our upcoming blog post featuring Jimmy D's streamers – Northern Pike County Breakdown – where the only thing faster than our line stripping is the banjo picking ;)  
If you can't beat em', join em'. An invasive great lakes species, the goby has established itself at the top of the smallmouth menu. Don't let this fool you though - somehow they've told all their other bronzeback friends and we've have good luck with this jig in several lakes and streams.
Northern Pike Streamers (Fly Fishing) $7.00
If you haven't tried fly fishing for pike yet you are truly missing out. It's some of the most explosive, addictive fishing you'll ever do and Jimmy D's streamers are a perfect place to start! Light wire black nickel Premium 5/0 hook.